This is the age of Internet and also this is the time of Digital Marketing. Nowadays every business wants their name in online market and for this every business now moving toward the Digital Marketing services even in every minute the trends of digital marketing has changed and create a new world of marketing strategy and of course now the internet marketing has become an important key for online business.
Businesses today need a strong digital footprint to succeed on the web. There's simply too much competition for businesses to overlook the power and potential of digital marketing. Our digital marketing plan incorporates some type of digital strategies which means the difference between rising to the top of an industry and lagging behind. Every business needs to take notice.
Our digital marketing helps businesses achieve their goals from new client acquisition and brand visibility to revenue generation and more. Digital marketing should be at the forefront of all strategic marketing in the modern world.
There are five critical components that make up our cohesive digital marketing strategy. Organic Search (SEO), Pay Per Click (PPC), Social Media Marketing, Content Marketing and Email Marketing. All of these channels combined form a strong digital marketing strategy that is greater than the sum of its parts.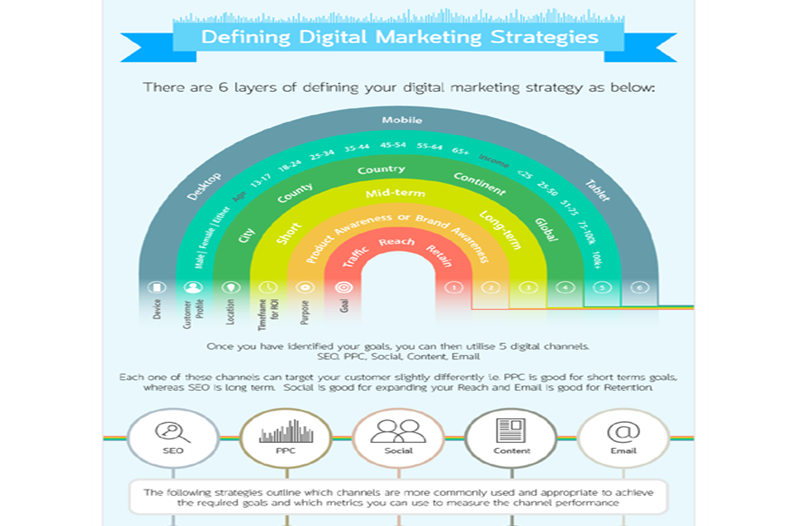 There Are 6 Layers of Defining Your Digital Marketing Strategy
The First Layer: This has to do with device which includes Desktop, Mobile and Tablet. These are devices used by your visitors and customers to have access to your website, blog, salespage, newsletter, campaign or ads.
Mobile optimization is officially a requirement. Still, the world is yet to meet the next generation Smartphone equipped with dazzling hardware advances, great software and new features to make life easier, healthier and more fun. The real value of mobile is only just beginning.
The Second Layer: This is your customer's profile. The Sex (male, female or either), Age and Income of your customer have to be considered in this regard. Your digital marketing strategy is incomplete without this layer.
The Third Layer: This is the location which comprises of City, County or Council, Province or State, Country, Continent, and Global. This is the limit or range of the area at which you want to cover.
The Forth Layer: This layer of defining your digital marketing is the timeframe for ROI. It's concerned with Short-term, Mid-term and Long-term of achieving your set goals. Understanding timeframe for ROI will help you identify which channel of digital marketing to be used.
The Fifth Layer: This has to do with the purpose of your digital marketing strategy. It may be Production or Service Awareness, or Brand Awareness. This gives your customer an insight about what you offer.
The Sixth Layer: This last layer of digital marketing based on the goals of defining digital marketing strategy. This consists of Traffic Generation, People Reach and Customers' Retention.
Once you have identified your goals, you can then utilise five digital marketing channels of Search Engine Optimization (SEO), Pay Per Click (PPC), Social Media Marketing, Content Marketing and Email Marketing to achieve your goals.
You need us for your digital marketing?
If you're interested in any of our services and would like to hire us, Contact Us by filling the contact form or Click Here to request a free quote, stating the details of your assignment, budget, and deadline. We'll reply promptly, and we can discuss further to finalize the deal.